Liz and Maggie's story
Handbagged is a comedy play by Moira Buffini that has proved a big hit at the Tricycle theatre and was nominated for Best Comedy last year. The show now transfers to the Vaudevile theatre in London for a limited season only from the 3rd April to the 2nd August, with the opening gala press night scheduled for the 10th April. Tickets are on sale now.
Handbagged is a gleeful comedy that speculates on the relationship of two of the most influential women in Britain. The monarch: Liz and her most powerful subject: Maggie.
Handbags, hairspray and sensible shoes. Two enduring national icons born just six months apart. One destined to rule, the other elected to lead. But when the stiff upper lip softened and handbags were set aside, which one had the upper hand?
One believed there was no such thing as society. The other had vowed to serve it. Handbagged explores the antipathy between two giants of the twentieth century in hilarious style.
Based on the critically-acclaimed short play from Women, Power & Politics at the Tricycle in 2010, Moira Buffini's irresistibly mischievous comedy speculates on that most provocative of questions: What did the world's most powerful women talk about behind closed palace doors?
Throughout her 11 years in office, Margaret Thatcher sat down on a weekly basis with the Queen to discuss the matters of the day. In this boisterous parody of their supposedly difficult relationship there is an older version of each on hand to dispute the contentious statements – "I never said that!"
The play also features other characters from the era, including; Kenneth Kaunda, Ronald and Nancy Reagan and Michael Heseltine.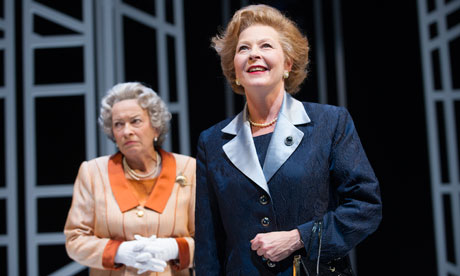 Please note that Marion Bailey will not be appearing in the role of "Q" at the following performances of Handbagged at the Vaudeville Theatre;
Wednesday 14th May 7.30pm
Thursday 15th May 2.30pm and 7.30pm
Friday 16th May 7.30pm
At those performances the role will be played by Katy Brittain.
Handbagged tickets in London:
To make a booking or to find ticket prices for Handbagged at the Vaudeville theatre, London, you can select your ticket preferences at the top of this page and check availability. To get further information on the Vaudeville theatre where Handbagged is showing, please click here.
Theatre tickets for Handbagged at the Vaudeville theatre are booked through Shows In London secure online booking system with credit card merchant services provided by Barclaycard.
Once tickets are booked through Shows In London you will receive an e-mail confirmation receipt and your tickets will be despatched to you within 48 hours of booking or alternatively left for your collection at the theatre Box Office.
At Shows In London we provide access to the full range of tickets from best seats to the cheapest ticket deals for all London West End Theatre, including half-price and discount ticket offers.
Booking Dates
First Performance
Thursday 1st January 1970
Last Performance
Thursday 1st January 1970