on
For the first time ever the play Great Expectations is being staged at the theatre with a show in London coming to the Vaudeville theatre in the West End.
Great Expectations is Charles Dickens' thirteenth novel. The story is about a boy's coming-of-age and follows the life story of an orphan named Pip.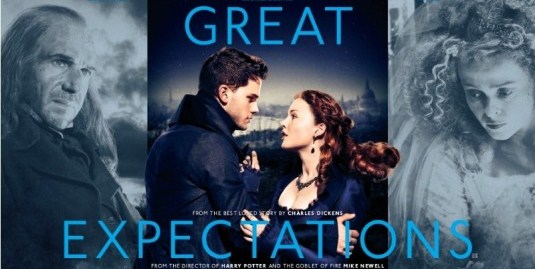 Great Expectations – The 2012 Film; starring Ralph Fiennes, Helena Bonham-Carter and Robbie Coltrane
It has been adapted numerous times for TV and this year it also reaches our cinemas, again, but in 2013 it is the first time in London that Great Expectations the play will be staged.
The novel was first published in serial form in Dickens' weekly periodical All the Year Round, from December 1860 to August 1861. In October 1861, Great Expectations was published as a novel in three volumes. Great Expectations was Dickens' penultimate novel, preceding Our Mutual Friend. It is set among the marshes of Kent and in London in the early-to-mid 1800s.
It starts with the terrifying encounter between Pip and the escaped convict, Abel Magwitch. Other colourful characters include the weird and strange Miss Havisham, the cold but beautiful Estella, Joe the kind and generous blacksmith plus numerous other typical Dickensian characters.
Magwitch scares Pip into getting a file to release his shackles. The guards later recapture Magwitch and another convict, while they are engaged in a fight; the two are returned to the prison ships.
Meanwhile Miss Havisham, a wealthy spinster, who wears an old wedding dress and lives in a dilapidated mansion wants a boy to play with her adopted daughter Estella. Pip begins to visit Miss Havisham and Estella, with whom he falls in love, with Miss Havisham's encouragement.
Pip is later employed as an apprentice at Joe Gargery's blacksmith shop. A mysterious lawyer, Mr. Jaggers, informs Pip that he is to receive a large sum of money from an anonymous benefactor and must leave for London immediately where he is to become a gentleman.
The story follows Pip's development and takes a few unexpected twists and turns before all is finally revealed in a compelling ending.
Part of the Vaudeville's success lies in the fact that it has only had five owners since 1892; the Gatti family retained ownership until 1969 when impresario Peter Saunders, most famous as the producer of Agatha Christie's The Mousetrap, took over. He in turn handed over to prolific theatre producer Michael Codron in 1983 who presided over a varied programme of major plays and musicals until Sir Stephen Waley-Cohen bought the theatre in 1996. In 2001, Max Weitzenhoffer, a Tony Award-winning American producer, acquired the venue with his UK producing partner Nica Burns.
The new play, Great Expectations adapted from Charles Dickens novel is anticipated to be an exciting London premiere at the Vaudeville theatre in February 2013.