on
It has been announced Tom Morton-Smith's highly acclaimed new play about the 'father of the atomic bomb', J Robert Oppenheimer, is transferring to the Vaudeville Theatre for a limited eight-week run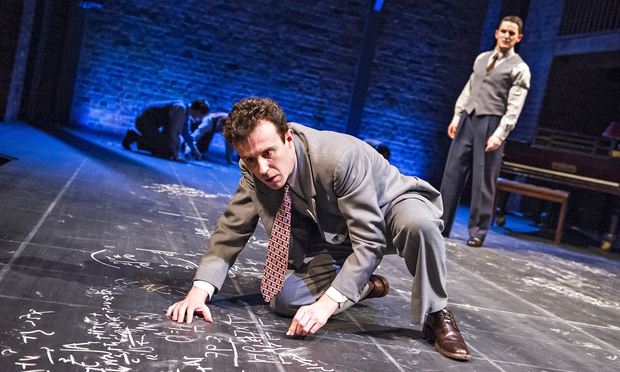 John Heffernan as J Robert Oppenheimer in the RSC's new play
This thrilling new play has been commissioned by the Royal Shakespeare Company. Currently playing at the Swan Theatre in Stratford-upon-Avon where it has been met with much acclaim, Oppenheimer will transfer to the Vaudeville on 27 March, 2015.
The play is centred on J Robert Oppenheimer, an ambitious and charismatic theoretical physicist and professor of physics at the University of California.
The 'battle of the laboratories'
Set in the late 1930s when fascism is quickly spreading across Europe, two chemists from Germany discover the processes of atomic fission. In California, Oppenheimer recognises the potential detrimental consequences of atomic bomb and becomes involved in a race to create a weapon that would have the power to end, not only World War II, but all wars.
Tom Morton-Smith's thrilling tale propels the audience into the heart of what has become known as the Manhattan Project, the battle to develop the first nuclear weapon during the Second World War.
Deep political tension
The play explores the political tension crafted when developing an understanding and justification of using nuclear weapons during wartime.
When transferring to the West End Oppenheimer will retain most of the original cast from Stratford-upon-Avon, including John Heffernan playing J Robert Oppenheimer.
Gregory Doran, the RSC's Artistic Director spoke of his delight that Oppenheimer is going to the West End.
"I am so pleased that Tom's wonderful play can be seen by London audiences. The epic nature of the subject and the broad sweep of the narrative is something we have always been encouraged in our commissioned new work," said Doran.
Oppenheimer is directed by Angus Jackson, whose recent credits include King Lear at the Brooklyn Academy of Music and the Chichester Festival Theatre.
This dark and compelling play is showing at the Vaudeville Theatre for a limited eight-week period from 27 March until 23 May, 2015.
Click here to book your tickets now!