on
Admitting stepping into the shows of Whitney Houston is 'a dream', Alexandra Burke lives up to expectations wowing the audience on her opening performance of the hit musical The Bodyguard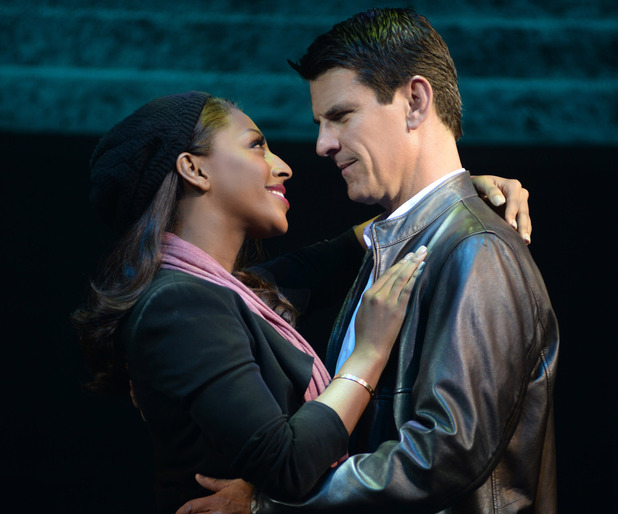 Alexandra Burke and Tristan Gemmill charming the auditorium at The Adelphi
Much hype was ignited when it was announced the former X Factor winner was to replace Beverley Knight and step into the shoes of troubled superstar Rachel Marron.
Following the press night this week, Burke's new stage role won encouraging reviews. Starring alongside Tristan Gemmill, who plays Marron's love interest Frank Farmer, the pair "pulled out all the stops" as the new cast delivered a spellbinder at the Adelphi Theatre.
The stage adaptation of the hugely successful 1992 film which starred Whitney Houston and Kevin Costner has enjoyed extensive West End praise. What's been dubbed as being "a ridiculously fun night out" took a new twist as the show enters the final months of its West End run.
A West End debut
Making a West End debut must be a daunting experience at any time but especially when the role is Rachel Marron. Not only was the character made famous by one of the most iconic female singers of all time who made it into the Guinness World Records as the most awarded female act ever, but the actress playing the role barely leaves the stage.
A challenging task for sure but one that Alexandra Burke lived up to with a strong, feisty and emotional first night at the Adelphi Theatre.
A West End star in the making
The "naturally likeable" Alexandra Burke stormed "fearlessly" on stage impressing the critics and the star-studded audience at the media night. As the lead role finished the show with "epic renditions" of 'I Wanna Dance With Somebody' and 'I Will Always Love You', Ms Burke, on all accounts, delivered the opening night of her "dream role" with passion and conviction as The Bodyguard goes from strength to strength.
The next morning Alexandra tweeted her exaltation of having performing her dream role, saying: "Last night felt like a dream… I'm so grateful for my blessings."
You've got until 29 August 2014 to catch the 'West End star in the making' in London's 'best musical' at The Adelphi.
Click here to book your tickets to see Alexandra Burke in Bodyguard!