on
The Ladykillers return to the West End at the Vaudeville theatre in London
Shows in London are delighted to announce the return of the sensational black comedy The Ladykillers to London's West End from the 29th June 2013.
The Ladykillers is a comedy play written in 2011 by Father Ted creator, Graham Linehan as a theatre adaptation based on the iconic Ealing comedy film of the same name.
The Ladykillers film was made in 1955 at Ealing Studios and starred a whole host of internationally famous actors including: Alec Guinness, Cecil Parker, Herbert Lom, Peter Sellers, Danny Green, Jack Warner and Katie Johnson.
The film was nominated for an Oscar for Original Screenplay and won the BAFTA Award for Best British Screenplay.
Graham Linehan stage play is a hilarious and thrilling new adaptation of the celebrated Ealing comedy. The play premièred at the Liverpool Playhouse theatre in November 2011, directed by Sean Foley. The show then transferred to the Gielgud Theatre in London, opening in November 2011, and closed after a successful and extended run in April 2012.
The show then embarked on a UK national tour from September to December 2012. Now the exciting news that The Ladykillers is headed back to the West End this time to the Vaudeville theatre in the Strand, London.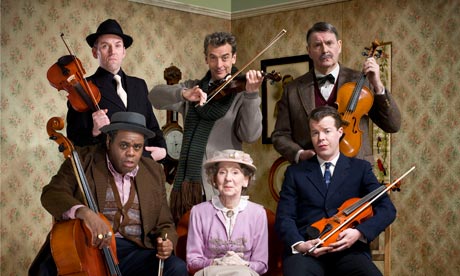 The Ladykillers return to the Vaudeville theatre in London
The Ladykillers tells the classic black comedy tale of a sweet little old lady, alone in her house, pitting her wits against a gang of criminal misfits who will stop at nothing. Posing as amateur musicians, Professor Marcus and his gang rent rooms in the lopsided house of sweet but eccentric Mrs Wilberforce. The villains plot to involve her unwittingly in Marcus' supposedly brilliantly conceived robbery. The police are left bewildered but Mrs Wilberforce becomes wise to their ruse and Marcus concludes that there is only one way to keep the old lady quiet. With only her parrot, General Gordon, to help her, Mrs Wilberforce is alone with five desperate men. But who will be forced to face the music?
The show in London starred a host of famous faces from both theatre and television, including Peter Capaldi from The Thick Of It; James Fleet from the Vicar of Dibley; Ben Miller from Death in Paradise and The Armstrong and Miller show and Clive Rowe from Tracey Beaker.
The Ladykillers tour starred amongst others: Paul Bown from Watching; Michele Dotrice, Betty in Some Mothers Do Ave Em; Shaun Williamson, Barry from Eastenders and Clive mantle from casualty and Holby City.
The show in London received both critical and public acclaim so it is a welcome return for The Ladykillers.
The Times said: 'The show deserves long West End Glory'
The Daily Express said: 'A glorious, madcap night out. A joy from start to finish'
The Independent said: 'Comic bliss with brass knobs on'
The Daily Telegraph said: 'A triumph with cracking comic performances'
The Guardian said: 'An exuberantly inventive evening'
The Daily Mail said: 'Thoroughly jolly and classically produced show'
And the London Evening Standard succinctly summed it up: 'Suberb'
Tickets will be available on-line from showsinlondon.co.uk or call one of our friendly team of experts on 0871 976 976 7