on
The Resistible Rise of Arturo Ui opens at the Duchess theatre, London
The sensational play, The Resistible Rise of Arturo Ui by Bertolt Brecht, in a translation by George Tabori revised by Alistair Beaton, is to open at the Duches theatre in London's West End from the 18th September 2013 for a strictly limited run of just 12 weeks.
Following a critically acclaimed run at Chichester Festival Theatre in 2012 when all tickets were sold-out, The Resistible Rise of Arturo Ui will transfer to the Duchess Theatre in September with Henry Goodman once more in the title role.
The Resistible Rise of Arturo Ui is a funny, sharp and thrilling take on the rise of Hitler, shot through with razor-sharp wit.
Chicago in the 1930s, the Great Depression – a time of unemployment, fear and corruption, and the perfect time for a small-fry crime boss and his henchmen to make it big, to seize a greater power, an absolute power.
Arturo Ui and his mob of gangsters run protection rackets for both workers and businesses. Soon Ui's menacing shadow looms large, from the markets, to the docks and across the city itself. You might be with him, you might be against him – it certainly seems you can't stop him.
The show in London is directed by Jonathan Church.
The Daily Telegraph said: 'You simply can't take your eyes off Goodman… He is horribly, hypnotically watchable'
The Guardian reported: 'Jonathan Church's breath-taking revival'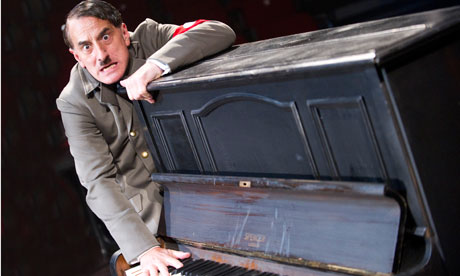 The Resistible Rise of Arturo Ui at the Duchess theatre, London
Performance times are Monday to Saturday at 7.30 p.m. with matinees on Thursdays and Saturdays at 2.30 p.m.
There are discount tickets available for groups of 8 people or more for performances Monday to Friday with best available tickets available from just £35.
Plus there are fantastic ticket deals for educational groups of 8 or more people for performances Monday to Wednesday and Thursday matinees with best available tickets from just £19.50. The show is recommended for 14+ age groups.
Tickets for The Resistible Rise of Arturo Ui at the Duchess theatre, London are on sale at ShowsinLondon.co.uk or call one of our friendly team of experts on 0871 976 976 7