on
Valentine's Day saw the invigorating dance, musical and theatrical show Stomp deliver not just one but two record-breaking performances. What's more, to celebrate Stomp turning 13 on the West End, this May the incredible show will host a Gala Night for Teenagers in London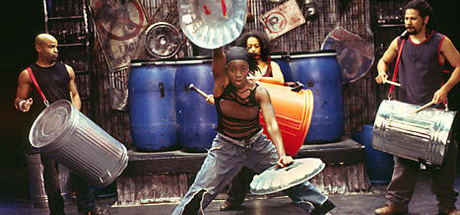 The stimulating show is soon to celebrate its 13th birthday on the West End
On Saturday 14 February 2015, Stomp played at the Ambassadors Theatre where it was the highest grossing performance of any show in the theatre's 102-year history. And that's not all. Stomps' Valentine's Day show also became the highest grossing Saturday matinee in the history of the Ambassador Theatre. Yes, that meant that the energising beats of Stomp broke two Box Office records, on the same night.
Stomp becomes a West End teenager
In celebration of Stomp becoming a teenager in the West End, the show will host a Gala Night for Teenagers in London.
Created by Steve McNicholas and Luke Cresswell in Brighton, Stomp was first performed in 1991 at the Edinburgh Fringe Festival. In 1994 the enlivening dance show won the Olivier Award for Best Choreography when it played at Sadler Wells.
The same year Stomp opened on Broadway, where it is currently celebrating its 21st birthday. In 2002 the dance percussion act opened in London at the Vaudeville Theatre. In 2007 the incredibly popular show transferred to the Ambassadors Theatre.
Turning everyday objects into fantastic dance props
Famed for transforming everyday items such as dustbins and brooms into percussion props, Stomp has played more than 20,000 performances to over 12 million people in 53 countries around the world.
Presently there are four different Stomp companies on tour on different continents, including North American and Europe.
Enthralling audiences across the globe, Stomp has been described as being "The best show ever!", "Captivating" and causing one onlooker's heart to thump to "every beat".
Dancing on stage in London to the electrifying rhythms using anything from matchboxes and Zippo lighters to bin lids and brooms, is Omari Carter, Nigel Clarke, Simone Clarke, Hugo Cortes, Paul Gunter, Melanie Joseph, James Lane, Laetitia Lawrence, Serena Morgan, Paul Bend, Rob Shaw, Adam Buckley, Melone M'Kenzy, Andrew Patrick, Paul Russell, Jasper Valentine and Simeon Weedall.