on
Join celebrity England cricketer Andrew "Freddie" Flintoff with his partner in crime, TV comedy producer Clyde Holcroft, as they hit the road in a brand new show titled Flintoff & Holcroft: Balls Out 2015.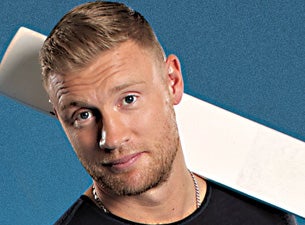 Flintoff and Holcroft embark on a new Balls Out tour in 2015
The show will see the comedy duo perform in theatres throughout the UK, including the Palace Theatre in London.
Performing the hilarious hit podcast 'Balls Out'
Live on the stage is the duo's hilarious podcast. Audiences can enjoy hearing behind the scene stories that took place during the notorious Ashes traffic-stopping bus tour.
Being informed about Freddie's toilet habits, audiences will be enlightened about the cricket star's marathons for Sport Relief, which broke a Guinness world record.
The comic pair even get round to talking about cricket, ahead of the Ashes' return to the UK this summer. Freddie is, of course, also celebrating ten years since England's legendary 2005 home Ashes victory against Australia. The iconic win saw Freddie named as best player having produced match-winning moments throughout the game
A little bit of Elvis…
Dubbed as featuring "a little bit of Elvis and a couple of googles", if you want to witness "unguarded and unleashed" sporting mayhem and fun, head to the Palace Theatre for Flintoff & Holcroft: Balls Out 2015.
The hilarious Balls Out will take place on Monday 20 July, 2015.
The show lasts for two hours, with an interval to be confirmed.
Click here to book your tickets today!