on
Daniel Radcliffe wins critical acclaim in The Cripple of Inishmaan.
Harry Potter star Daniel Radcliffe has impressed critics with his "understated" performance as a disabled orphan in Michael Gandage's revival The Cripple of Inishmaan.
The Guradian's Michael Billington said in his four-star review: "It's a knowing play but one which Radcliffe invests with a sense of real feeling".
Martin McDonagh's 1996 play runs at the Noel Coward Theatre until 31 August.
Charles Spencer in the Daily Telegraph said Radcliffe gave McDonagh's play "its much-needed heart. Radcliffe brings a touching stoicism and simplicity to his performance as Cripple Billy, all the more moving because it is so understated."
"It is surprising to find Michael Grandage directing this black comedy, as he is normally the most humane of directors. But it has to be admitted that the piece is theatrically effective, outstandingly acted and often disgracefully funny."
Quentin Letts of the Daily Mail said Radcliffe shared the stage with "a beltingly good Irish cast who bejabber and begorrah away in Martin McDonagh's zany take on Oirishness".
Paul Taylor, in The Independent, praises Radcliffe's performance as "honest, sensitive, unshowy performance".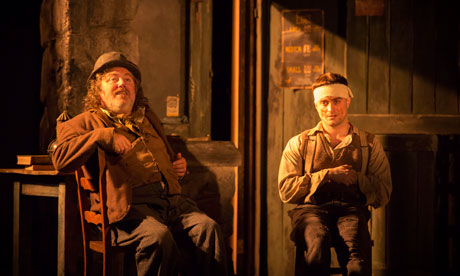 Daniel Radcliffe in The Cripple of Inishmaan at the Noel Coward theatre in London
The play is set in 1934 on the isle of Inishmaan off the west coast of Ireland where disabled teenager, Billy Claven played by Daniel Radcliffe, lives.
Known locally as Cripple Billy he is constantly mocked by the locals and survives the tedium of daily life by reading books and staring at cows. The arrival of a Hollywood film-maker on a neighbouring island offers Billy the chance of escape to a glamorous new life.
In the London Evening Standard, Henry Hitchings highlights the other cast members, with particular praise for Gillian Hanna and Ingrid Craigie as Billy's adopted aunts as well as Pat Shortt's Johnnypateenmike and his mother, given "a sour fierceness" by June Watson.
"There are plenty of laughs – many of them guilty ones – along the way. And Radcliffe's desire to challenge himself is admirable, as is his refusal to milk his part and instead deliver a performance of moving modesty," he added.