on
Director Sam Mendes quits Bond franchise
Director Sam Mendes has sensationally quit the James Bond franchise to concentrate on directing Charlie and the Chocolate Factory the musical at the Theatre Royal Drury Lane in London.
Multi-award winning director Sam Mendes was director on the latest Bond movie, Skyfall, which has been heralded as the best Bond film ever but he has declined the next Bond movie in order to focus fully on his much anticipated return to the London theatre with Charlie & the Chocolate Factory musical.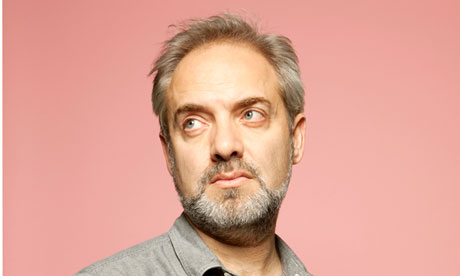 Charlie & the Chocolate Factory Director Sam Mendes
Tickets for Charlie and the Chocolate Factory have been on sale since November and are selling like hot cakes, or should that be hot chocolate cakes. Surprisingly tickets for many performances are already sold out, including some of the preview performances, that despite very little in the way of publicity or advertising campaigns yet. We say surprisingly because it is unusual for tickets to sell out so far in advance ahead of the launch of a shows main publicity campaigns.
At Shows in London, we were privileged to have a sneaky behind the scenes look at the set on the stage at the Theatre Royal Drury Lane, as long as we promised not to divulge the secrets of the Chocolate Factory. So, under threat of torture by drowning in chocolate we cannot reveal the details of the set design, but suffice to say it is sensational.
Previews for Charlie and the Chocolate Factory start from the 18th May with the world premiere opening night gala scheduled for the 25th June 2013. Extra previews are being added due to the unprecedented demand for tickets.
The producers are pleasantly surprised at sales of tickets thus far and put it down to three crucial factors: the fact that Charlie and the Chocolate Factory, out of all Roald Dahl's books is perhaps his most famous and certainly a big favourite with many people. Secondly the enormous success of the recent stage adaptation of another of Dahl's books, Matilda the musical at the Cambridge theatre. And perhaps most importantly the Mendes factor. Having enjoyed such critical and public acclaim for his film Skyfall, it appears Sam Mendes can do no wrong. His homecoming to the theatre and knowing Mendes' eye for detail and his desire for perfection, his return to the theatre is met with eager anticipation as it promises to be a fantastic show. One thing we are certain of that Sam Mendes is totally committed to this project which bodes well for fans of Charlie and the Chocolate Factory.
The producers have promised a release of the music very soon, and our inside mole tells us that the songs for the show are impressive. So we at Shows in London just can't wait.
With tickets selling fast and some performances of Charlie and the Chocolate Factory already sold out we suggest you book early to avoid disappointment. Tickets are on sale at sShowsinLondon.co.uk or call one of our friendly team of experts on 0871 976 976 7