on
Comedian and actor Lenny Henry is to star in August Wilson's play Fences at the Duchess theatre in London from the 19th June 2013, for a strictly limited season to the 14th September 2013.
Fences is a 1983 play by American playwright August Wilson. Set in the 1950s, it is the sixth in Wilson's ten-part Pittsburgh Cycle. Fences explores race relations and the evolving African-American experience. The play won the 1987 Pulitzer Prize for Drama and the 1987 Tony Award for Best Play on Broadway.
Fences is a brilliant play covering a diverse range of topics but fundamentally focusing on a family and their issues and problems including under-lying racial tensions.
Fences centres around Troy, a 53-year-old head of a household who struggles with providing for his family and with his obsession with cheating death. In his youth Troy was a great baseball player, having honed his skills whilst in prison for an accidental murder he'd committed during a robbery. Troy was unable to make good money from baseball due to the major leagues not allowing black participants. Troy is now employed as a refuse collector and lives with his wife Rosa and their son Cory.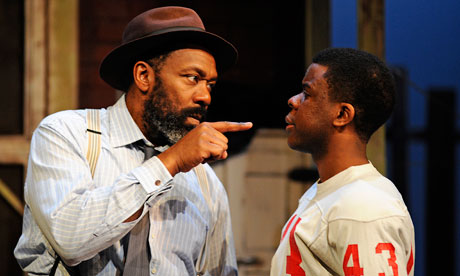 Lenny Henry with co-star in Fences
Troy's younger brother Gabriel is an ex-soldier whose war injury has caused him psychological damage. Troy has taken Gabriel's compensation money to buy his house. Troy's son Lyons, from a previous relationship, has come to borrow money from Troy, confident that he will receive it and promises to pay him back because his girlfriend Bonnie just got a job. Troy gives his son a hard time, but eventually gives him the requested ten dollars after Rose persuades him to do so.
It is later revealed that Try is having an affair, followed by the discovery that his girlfriend, Alberta, is pregnant. Troy's younger son Cory has an opportunity for a college football scholarship, but Troy says he won't let his son play football in fear of racial discrimination. A bitter argument ensues and Troy kicks Cory out of the family home.
Troy gets a call concerning Alberta informing him that she has died during childbirth. Rose agrees to adopt the baby girl, Raynelle, and take care of the baby as her own.
Seven years later, Troy has died. The play then reflects on the relationships and a poignant look back at what has happened in the ensuing years.
Fences is a powerful piece of historic drama examining some difficult topics but always with heart-felt sympathy.
Book tickets for the play Fences